Shipping

You are on the
Car Ships
Main page
New Zealand
Singapore
Yokohama
USA/Canada
Photos
Links to
Shipping Main Page
Imports
Exports
Personal Effects
In / Out of Australia
History of
New Zealand Shipping
On-line Comments

Consignment Note
Delivery Instruction
Delivery order
Helpful Hints
Hassle Free Move
What Happens on Arrival
Events Calendar
Public &
School Holidays
Advertise on this site
Bulletin Board
Buy Shelf Space
Pay by Credit Card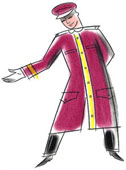 Car Ships
This page was last updated on Wednesday, 02 November 2011 09:16:35 PM
For movement of cars, trucks, 4wds, utes, motor homes and campervans.
Roll on Roll off services
For all other ports we can offer a regular container service for vehicles in and out of Australia (Brisbane, Sydney, Melbourne, Adelaide and Fremantle) with weekly sailings to and from all the worlds major ports.
For car imports into Australia remember we will not ship your vehicle until you have an import permit from the Department of Infrastructure. Some American companies have neglected to advise their clients of this requirement and it has proved a costly exercise for their customers.